Rückblick
Hackathon²
In Football Tactics
Welcome to the virtual home of Hackathon²! We are excited to team up with Eintracht Frankfurt and Sportec Solutions to provide you a seven-month data-science and football-tactics extravaganza. Below you will find all of the relevant information for the event concept, timeline, and application.
Impressions of the Hackathon²
Opening of the final event: Tobias Haupt, Fredi Bobic and Pascal Bauer.

Due to the Covid-19 pandemic only some guests present

Two jurors: Christoph Clemens followed at home, Dr. Hendrik Weber were present in Frankfurt.

Further members of the jury: Sebastian Zelichowski (left) and Rasmus Andersen (right).

Celebrating during the pandemic: Congratulations to Felix Schmidt and Kyrill Serykh.

Winners of the Hackathon²: Felix Schmidt und Kyrill Serykh

A World Map of every participant of the Hackathon²

Digitale Karte der Teilnehmer des Hackathon²

Digitale Deutschland-Karte der Teilnehmer
/
15:00 – 15:15 Uhr | Welcome Speeches

15:15 – 15:30 Uhr | What happened so far? Hackathon ² in a Nutshell

15:30 – 15:45 Uhr | Jury Introduction

15:45 – 16:15 Uhr | Team 1 – Goalie challenge

16:15 – 16:45 Uhr | Team 2 – Set-piece Report

16:45 – 17:00 Uhr | Coffee Break

17:00 – 17:30 Uhr | Team 3 – Packing 2.0

17:30 – 18:00 Uhr | Team 4 – Interactive Workload Report

18:00 – 18:30 Uhr | Team 5 – Expected Possession Value

18:30 – 18:45 Uhr | Final Break

18:45 – 19:00 Uhr | Jury Recap and Decision

19:00 – 19:15 Uhr | Winner Announcement and Closing
Event-Goals
Provide a forum to unite Data-Science & Football communities
Curate actionable results for practitioners' daily business
Promote a culture of data-integration in the workflow of professional football teams in Germany
Leverage Machine Learning for tactical analysis in cooperation between Clubs, Federation, and League
Innovative event format that blends coding, networking, and practical problem solving
The Hackathon² merged the data-science and the football world
Data Analysts (Focus Data Modelling)

Match Analysts (Focus Football)

Participant Support Mentors (machine learning, data visualization, and more)

Kick-Off Event at the 2020 "DFB-Pokal" match against RB Leipzig

Live challenge and final event at the last match of the season against SC Paderborn

Programming in teams of two (data & match analyst) including two live-data challenges

Positional- and event data provided by Sportec Solutions (seasons 18/19 and 19/20)

Monthly keynotes about data-science in professional football by industry experts

World class jury to evaluate the best combination of practicality and science
The first Keynote took place on Friday, 28th of February. The participants listened to the presentations of our 3 speakers: Joris Bekkers (Data-Scientist U.S. Soccer Federation) gave an insight in his work for the U.S. Soccer Federation with his keynote "Practical Applications of Data in Football", Prof. Dr. Ulf Brefeld (Professorship for Business Information Systems and Machine Learning) spoke about "Movement Models: Key to Analysing Positional Data!", and Gabriel Anzer (Data-Scientist Sportec Solutions GmbH) held a presentation about his job as a Data-Scientist at Sportec Solutions and "Support Match Analysts Processes through Machine Learning Models".
The second Keynote took place on Friday, 20th of March. Due to the Corona-Pandemic the Keynote was held online. For takeoff, the participants were asked to take a selfie of their Home office and as result the collage above was created. The participants listened to the presentations of our 2 speakers: Sudarshan Gopaladesikan (Head of Sports Data Scientist for Sport Lisboa e Benfica) gave an insight in his work with his keynote "The utility of data science: A new module in coaches' education" and Paul Power(Lead AI Scientist at "SatsPerform") talked about "Capturing Context from Data". After the presentations, the participants were able to ask their questions with a special online tool, so that no "confusion" arose despite 50 online users.
The extraordinary Keynote #2.5 took place on Friday, 24th of April as a video conference. Once again the participants were asked to participate in our selfie challenge. This time they should show us their oldest jersey and another collage was created. Before start, more than 70 participants were welcomed by Fredi Bobic and then listened to four presentations with thematic focus on the applicability of data in game analysis. James Barber & Ben Hu (SBG Sportssoftware) held a presentation about "Detecting Match Phases with the SBG Match Tracker". Gabor Ruhr & Marco Schuster (Eintracht Frankfurt) gave an insight into their daily business with "How can data support a Bundesliga-Analyst's everyday processes?" and Matthias Borst (Eintracht Frankfurt) talked about "How can data be used to develop a club's playing philosophy?". The last presentation was held by Jerome Polenz & Thomas Broich (Zonal.ly) who gave an insight in "How can data underpin the tactical analysis of a team?".
The last Keynote of the Hackathon² - Keynote #3 - took place on 19th of June as a video conference. Like in the past sessions the attendees were asked to participate in our selfie challenge. This time they should show us their home office set up and of all submitted pictures another collage was created.As start the participants were welcomed by one of our special guests: Oliver Bierhoff, who thanked both the participants and the partners (Eintracht Frankfurt, Sportec Solutions) and also explained the important relevance of applied data-science for the DFB and our national teams. This relevance was also underpinned by the presence of two more special guests - Marcus Sorg and Toni Di Salvo. After the introduction three presentations were held. David Quartey (North Yard Analytics) talked about "How do attacking and defending strategies affect goalscoring opportunities from throw-ins?". After this Jannis Scheibe (DFB) gave insights into data-driven match analysis in the German U21 National Team. The last presentation was about "Going deep into match analysis with context and off-ball metrics" held by Sergio Llana Pérez from FC Barcelona. In this context Sergio presented how the Barca Innovation Hub data analytics department is structured and how they already support their teams and coaches.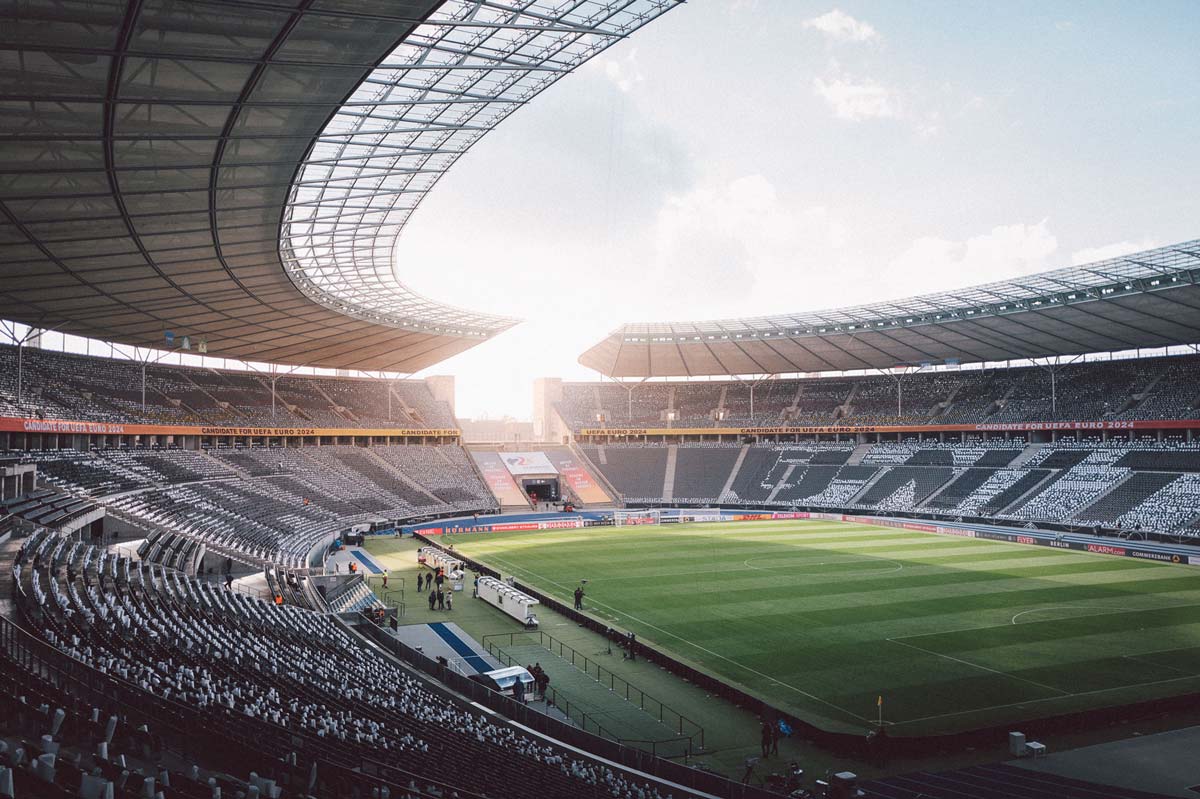 Vielen Dank für Ihre Registrierung für den Newsletter der DFB-Akademie!
Sie erhalten einen Link zur Bestätigung Ihrer Anmeldung in Ihrem angegebenen Postfach.